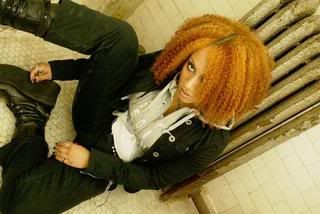 WYP had the honor of interviewing Militia, frontwoman of heavy metal band, Swear On Your Life and host of Fuse TV's Heavy Metal Makeover. Find out how went from "bandless" to leader of her own band. This is WYP's first interview.


What were you doing before Swear On Your Life?
The band that I was in prior to SOYL was a female fronted, shock rock,grindcore band- it was kind of like Marilyn Manson meets L7. I was onbass + sang death metal vocals. Then I got into The European Tour of JesusChrist Superstar + they put me out of the band. When I got back to NYC, Iimmediately started doing shows on FUSE again (When I had originallystarted working with them it was called Much Music USA.) Because I was"bandless" I put together concerts at a then off-Broadway house in NYCcalled The Belt (next to The Zipper Factory.) One of the shows being anall-black tribute show called Anarchists of Color. I put all the bestblack rockers that I knew at the time in it: Frank Ferrer on drums(Pisser, and now Guns N Roses), Felicia Collins on guitar (DavidLetterman/CBS Orchestra), Noah So, Honeychild, Portia (Kelis, Portiagirl),La'Schelle (Nona Hendrix), myself + more...We played a few shows in NYC +then, due to some conflicts within the group, I had to let it die... (Seepics here:
http://lundissimo.info/aoc/index.html
)
How did SOYL get started?
SWEAR ON YOUR LIFE was a Craigslist conception. I had been having somebad luck finding people that I actually wanted to work with + could alsowork well together. So, I started trolling Craigslist + I answered the adthat spoke to me. We arranged to meet at their rehearsal space. As soonas they opened the door + I laid eyes on them, I knew I had found my guys.

How would you describe SOYL's sound?
Exhilaration.
Describe Burn My Crosses. What does the album's name mean?
A lot of people think that it's some big anti-religious statement. Therecord's even been banned + deemed "offensive" at some Catholic schools.Well, when I was at Catholic school, the nuns taught me about a lil' olthing called a METAPHOR.
The idea behind "BURN MY CROSSES" is when someone you love takes idealsthat are important to you + destroys them...+ you let them get away withit.
What are you and Swear On Your Life currently working on?
SWEAR ON YOUR LIFE is looking to play as much as humanly possible. We'dreally like to get over to Europe. We are continuing to write newmaterial, push forward + stay raw.
I am currently in an all-female rock musical called SUPER CHIX that is"workshopping" in New York City. I play a 70's-esque rock'n'rollsuperhero named, "Vita." See some moments here:
www.myspace.com/superchixrocks
Who were your musical influences when you were growing up?
Growing up I idolized Cyndi Lauper, Janis Joplin, Tina Turner, FreddieMercury + Michael Jackson because they are/were extremely powerful +commanding vocalists. Musically, I loved (+ still love) film scores-especially for horror movies- I had pretty much every Nightmare on ElmStreet score + soundtrack on cassette! I used to listen to classicalmusic every night- Chopin, Rachmoninoff, Bach, Beethoven, Berlioz. Musicals- specifically Sondheim ie Sweeney Todd, West Side Story, etc... +also Les Miz. My father collects records + he was constantly playingclassic rock, Motown + DooWop- by the way, he actually introduced me toLiving Colour! Then, in middle school, I discovered Metallica, PublicEnemy + 2 Live Crew. ;)
What challenges did you face as a result of your tastes, such as music?
Well, let's just say that my mother wasn't exactly "into it!" Shediscouraged me liking + listening to certain music because she grew up ablack female in the south in the 50's. To her, she identified hard rock +heavy metal to be for white people. She just didn't understand myattraction to it.
None of my friends growing up were into heavy music. So I felt like justkinda had it for myself + not to share. It was a great outlet for mebehind closed doors. When I got to high school, I started getting intopunk as well- a girlfriend of mine introduced me to Bad Brains + I knew Isaw the light! I also really clicked with the riot grrrl scene in a majorway: L7, 7 Year Bitch, Bikini Kill + Hole. I STILL brake for all thatshit!
What is your opinion of the impact of Afropunk and the black rockmovement on Black culture?
I love it + feel like we still have a long way to go.

What are some causes that are important to you?
Female liberation- I feel like a lot of girls don't know that there areother options in life other an just getting a man + pumping out babies. Self-esteem is a virtue.
Arts education- a lot of students need the freggin outlet!! And when itcomes to funding in schools, the music + art are the first to get the ax.

What advice would you give to other girls, especially black girls, thatare trying to get in to the metal and rock music business?
If it's in your soul to rock'n'roll- NOTHING can stop you.
xM

For more information on Swear On Your Life, check out
http://www.myspace.com/swearonyourlife
For more information on Militia check out
www.MILITIAISMYNAME.com